25 AUG 2017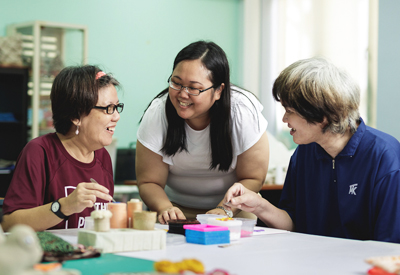 Singapore Anglican Community Services (SACS) and St. Andrew's Mission Hospital (SAMH) hosted a charity dinner this evening. The event was graced by Mr Chan Chun Sing, Minister in the Prime Minister's Office as Guest-of-Honour. In his speech, Mr Chan lauded the contributions of SACS and SAMH in shaping Singapore's health and community care landscape throughout the years, providing holistic care for patients to meet their medical, social and psychological needs.
SACS, which celebrates its 50th anniversary this year, is the largest psychiatric community rehabilitation service provider in Singapore providing a continuum of care in mental illness recovery. Its Psychiatric Services arm includes both Residential and Day Rehabilitation Services at Hougang Care Centre (HCC), Simei Care Centre and Anglican Care Centre (Farrer Park); Day Rehabilitation services at Community Rehabilitation Support and Services at Bukit Batok, Pasir Ris and Yishun and Integrated Employment Services (IES). Each year, SACS's psychiatric rehabilitation services attend to approximately 2,000 patients and clients.
In the fourth quarter of 2017, SACS will have an additional service to its psychiatric services care continuum with the opening of the Anglican Care Centre (Farrer Park), a temporary accommodation to provide support for up to 60 adults and 20 youths, who are in mental health recovery and are ready to return to independent living in the community.
SAMH started operating St. Andrew's Nursing Home (Henderson) and St. Andrew's Nursing Home (Queenstown) in February 2017 and April 2017 respectively. A third nursing home at Dover Avenue, an initiative of St. John's – St. Margaret's Church, in collaboration with SAMH, is expected to be operational in 2020. All three nursing homes will provide integrated residential, centre-based and home care services, together with a co-located senior care centre.
Dr Arthur Chern, Group Chief Executive Officer, SACS and SAMH said, "Healthcare is no longer about treating a medical problem alone; it is about caring for our patients and helping them live well and in dignity through continuum of care. SACS and SAMH presently serve over 20,000 people through its 23 services providing integrated social and health services. Over the years, our services have evolved from caring for women and children, to orthopaedic care, elderly care, families in crisis and autism services, counselling and long-term psychiatric care. This is made possible with the support from private donors and partner organisations. This year, we have raised around $800,000 from the SACS-SAMH Charity Dinner and the money raised will be used to fund the growing community outreach programmes and a range of community services under SACS and SAMH, spanning autism care, healthcare, psychiatric care and senior care."
Singapore Anglican Community Services (SACS)
The origins of Singapore Anglican Community Services (SACS) date back to the 1950s with the setting up of a clinic by Mrs. Eng Neo Thomas, a nurse and the wife of the Principal of St. Andrew's School. The clinic was to serve villagers living in the Potong Pasir area. In the 1960s, student counselling services were introduced, with the first office located at St. Margaret's Primary School. 1967 saw the launch of Singapore Anglican Welfare Council (SAWC) to meet the needs of the elderly, the lonely, the sick and the poor. Services under SAWC included the Wilkie Road Children's Home, drug rehabilitation centres and the Christian Outreach to the Handicapped. The 80s saw the development of Psychiatric Rehabilitation Services, which became SAWC's anchor service. In 2006, SAWC was restructured and renamed SACS.
Today, SACS serves three areas of service which are provided through:

Psychiatric Services
Hougang Care Centre
Simei Care Centre
Anglican Care Centre (Farrer Park) – Official Opening in October 2017
Community Rehabilitation and Support Service (at Bukit Batok, Pasir Ris and Yishun)
Integrated Employment Services
Senior Services
SACS Cluster Support and Senior Group Home@Jurong East
SACS Centre@Floral Spring
SACS Centre@Golden Orchid
PEACE-Connect Cluster Operator
Special Group Services
SACS Family Care Centre
City Community Services
Mission to Seafarers