27 FEB 2018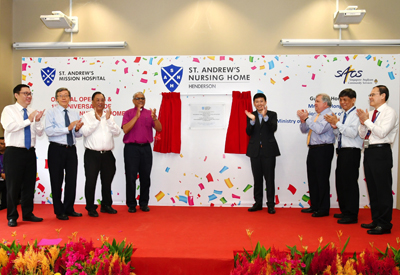 Since early 2017, residents in the Henderson, Telok Blangah and Bukit Merah districts are able to benefit from the integrated services provided by a new nursing home located at the junction of Henderson and Telok Blangah Road.
In 2016, MOH appointed St. Andrew's Mission Hospital through a competitive Request-for-Proposal tender to operate the Build-Own-Lease nursing home at Henderson Road. Named St. Andrew's Nursing Home (SANH) (Henderson), it began operations in February 2017. The Home also has a co-located senior care centre, St. Andrew's Senior Care (SASC) (Henderson), which commenced day care, dementia day care, community rehabilitation and centre-based nursing services in May 2017, and home care services in October 2017.
SANH (Henderson) has a capacity of 255 nursing home beds. The current overall occupancy rate is at 86% with the 48-bed dementia care ward being fully occupied. SASC (Henderson) is able to accommodate up to 60 seniors daily for day care, dementia day care services, and 15 seniors for rehabilitation daily.
"In the next few years, we aim to strengthen our clinical expertise and broaden our experiences in caring for people with dementia. We foresee that demand for dementia care among the elderly will continue to rise. We intend to have our staff further their studies and undergo more training in dementia care. Together with our SAMH family, namely St. Andrew's Community Hospital and St. Andrew's Senior Care services, our partnership with SingHealth services, Alzheimer's Disease Association and our volunteers, we would like to develop into a dementia care-specific nursing home-cum-senior care centre," said Mr. John Chan, Executive Director, SANH (Henderson).
SANH (Henderson) is one of the latest institutions joining the suite of services operated by St. Andrew's Mission Hospital, which includes community hospital, nursing homes, senior care centres autism centre, and primary care clinics.
Dr. Arthur Chern, Group Chief Executive Officer of St. Andrew's Mission Hospital said, "Since 1992, with the setting up of St. Andrew's Community Hospital, the first community hospital in Singapore, we have gained considerable experiences in providing rehabilitative and dementia care to the elderly. SANH (Henderson) can leverage on the expertise and experiences of its 'older brother', to provide resident-centric long-term nursing care together with appropriate rehabilitative programmes. We purpose to improve the residents' condition so that they may be able to discharge home. Our senior care centre within the nursing home can provide a good alternative for those who are at home to come for regular exercise sessions or for centre-based nursing care. This option will allow more elderly to age-in-place instead of having to be confined in institutional care."
"SANH (Henderson) does not want to be a closed-door gated institution. We welcome our neighbours and the communities around us to come and befriend our residents, to help us conduct social and recreational programmes for our residents and clients at the senior care centre. We also have neighbours who come to conduct local dialect classes for our staff so that they can communicate better with our residents. Young children from a nearby childcare centre – Sparkletots bring much cheer and energy to our residents. We are pleased to play a part in promoting inter-generational, inter-racial interactions in the community," Mr. John Chan, Executive Director, SANH (Henderson) added.
Today's official opening of SANH (Henderson) was officiated by Senior Minister of State for Health Mr. Chee Hong Tat. Mr. Chee was joined by over 150 guests from the Ministry of Health, Agency for Integrated Care, grassroots leaders and representatives of the Radin Mas SMC, the Lew Foundation – a major donor, volunteers and supporters. Mr. Chee toured the nursing home, and interacted with residents, clients and their family members.