On 23 February 2018, the staff of St. Andrew's Nursing Home (SANH) (Buangkok) celebrated the 100th birthday of their resident, Mdm. Tham Lai Lin, together with her family.
Prior to being a resident of SANH (Buangkok), Mdm. Tham was well taken care of by her son, Mr. Vincent Chia and his wife, Mrs. Helen Chia for the past 40 years. However, caring for Mdm. Tham became challenging when Mdm. Tham's dementia started to set in. Due to her behavioural and temperamental changes, Mr. and Mrs. Chia struggled to meet her needs as the only caregivers. When Mrs. Chia suffered a stroke, Mr. and Mrs. Chia realised it was beyond their capabilities to provide appropriate care for Mdm. Tham at home and it was time to find an alternative care arrangement for Mdm. Tham.
In September 2015, the family admitted Mdm. Tham to SANH (Buangkok) for professional care. Initially, Mdm. Tham often isolated herself and spent her days in bed. Attempts by the care team to encourage her to participate in activities with other residents were often met with rejection. The care team persevered in building a relationship with her, conversing and joking with her in Dialects, Mandarin and Malay to cheer her up, while ensuring that her needs were met and helping her to adjust to her new home.
Two years down the road, Mdm. Tham is now enjoying her life in the nursing home, often initiating conversations and even joking with the care team. The strong bond between Mdm. Tham and the care team provided Mr. and Mrs. Chia much peace of mind knowing that their loved one is in good care.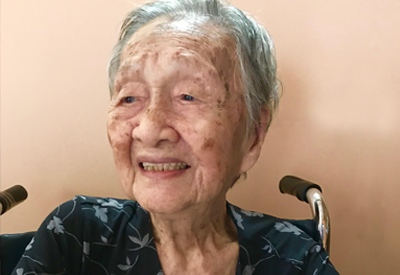 Mdm. Tham looking forward to her 100th birthday celebration with her family and care team of SANH (Buangkok).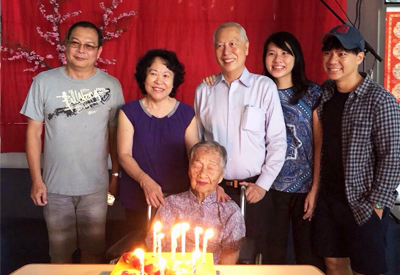 Mdm. Tham's heartwarming family portrait.
The staff of SANH (Buangkok) celebrating Mdm. Tham's 100th birthday.