Our SilverCare Hub (OSH) is a partnership between Changi General Hospital (CGH), St Andrew's Senior Care (SASC) (Tampines), the Eastern Community Health Centre (CHC) and the Tampines Family Medicine Clinic (TFMC),  to meet the healthcare and social needs of senior residents in the east. The three facilities provide easily accessible services such as physiotherapy, general and dementia day care, community rehabilitation, counselling and primary healthcare for seniors. Seniors who require more complex or specialised care may be referred to CGH. All necessary information and care recommendations for intervention will also be shared between respective OSH partners with consent from the seniors or their families. This enables seamless transition across the care services and allows OSH partners to have comprehensive understanding of the patient's condition over time.
The story of Mdm. Laila D/O Kadir bears testament to a successful integration of services within OSH facilities. Formerly a hotel chef, the 72-year-old senior was diagnosed with osteoarthritis in both knees. Her doctor from CGH referred her to SASC (Tampines) and CHC respectively for day care and physiotherapy services. She felt better and healthier after the sessions and enjoyed interacting with the other seniors.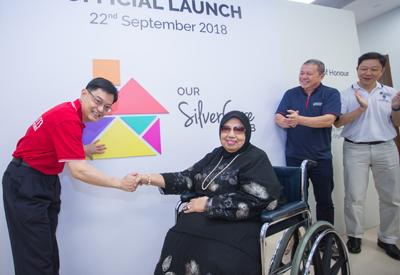 Mr. Heng Swee Keat, Minister for Finance and Member of Parliament for Tampines Group Representation Constituency, and Mdm. Laila completed the OSH tangram logo with the last puzzle piece representing the Community.